Our Couch Covers are Tried, Tested, and Approved!
Our magic sofa covers are machine washable and always stay in place. These couch covers are both stylish and functional. Let our reviews speak for themselves!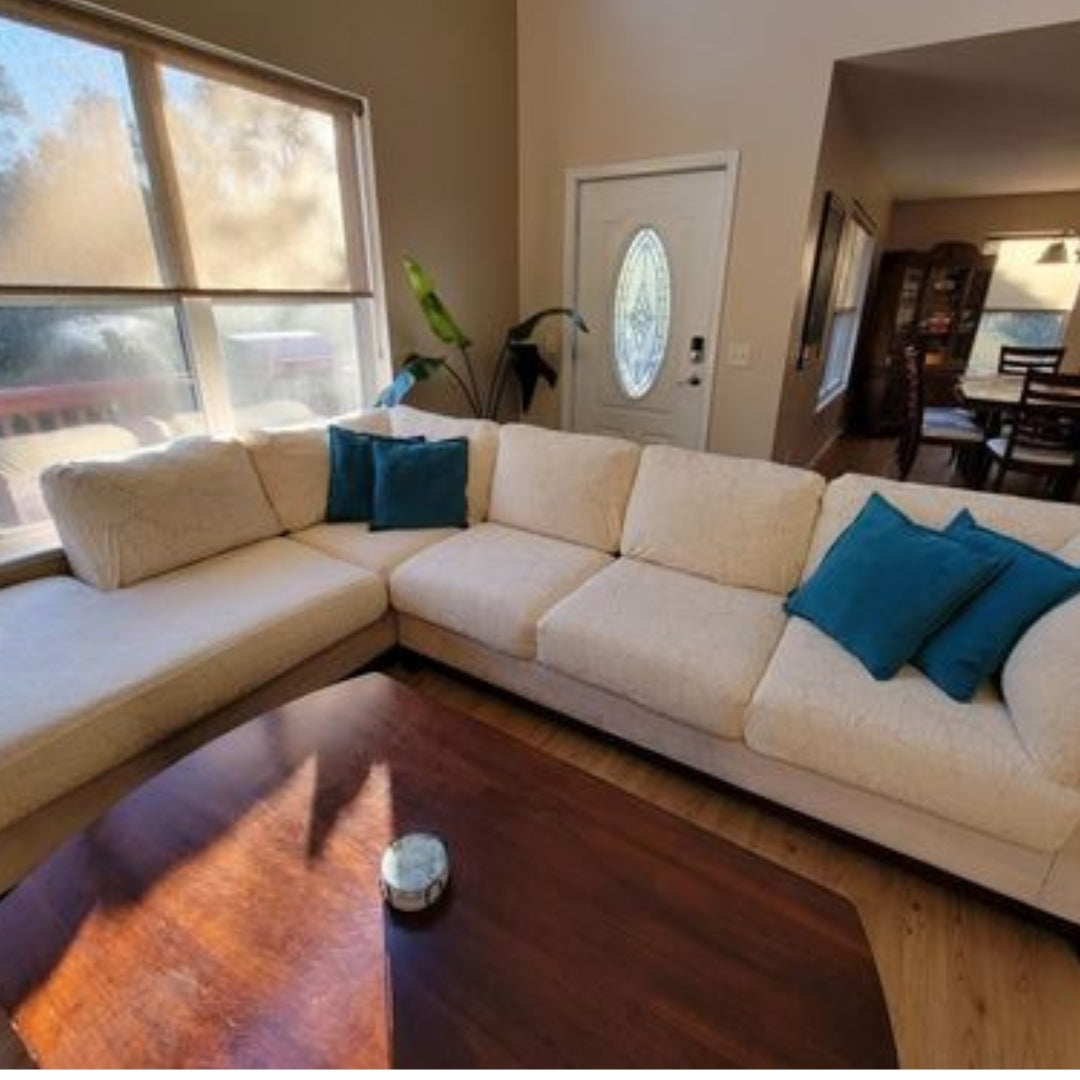 I absolutely love these slip covers!!
First of all they fit perfectly, second of all they are so reasonably priced and soft and I love the texture. I like them better than my actual upholstery on my $4000 sofa.
- Sheryl D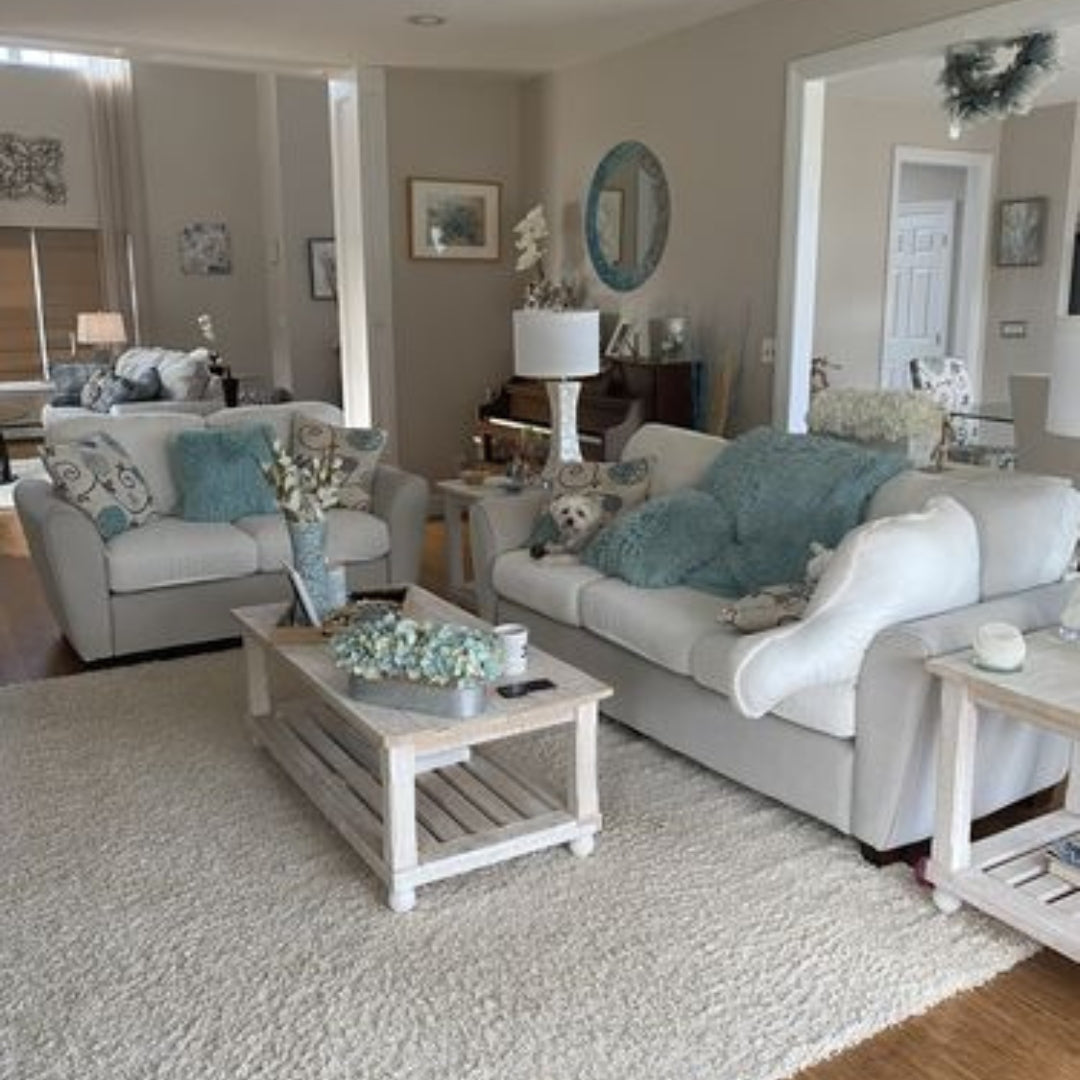 I am so happy with my purchase!!
They are easy to get dog hair off of and stay fitted to the cushions. I would definitely recommend these covers to anyone with pets who would like to keep their couch nice!

- Becca B.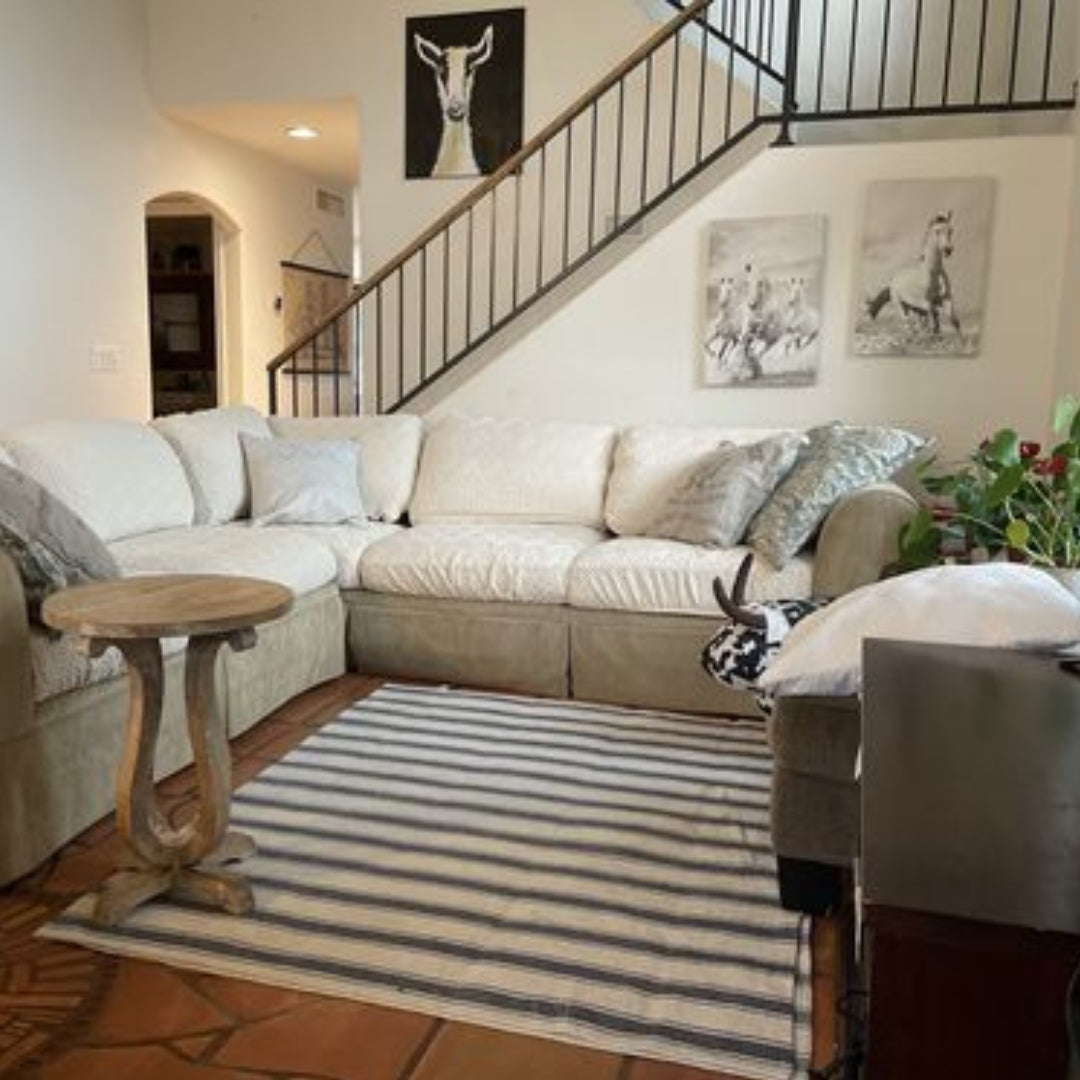 They are super soft and stretchy.
My back cushions are large so they are a little squished in the back cushion covers, I may go back and order seat covers for my back cushions. Nonetheless, I love them and am so happy with them!

- Megan E.
About Our Pet Sofa Slipcovers
Shop our collection of pet sofa slipcovers and protectors for couches and sectionals. Keep your furniture looking new while enjoying the company of your pets. Our covers come in a variety of stylish designs to match your home décor.
5 Reasons Why You Need Couch Covers or Dogs
Protect your expensive furniture from pet hair, stains, and scratches.
Easy to clean and maintain - just toss them in the washing machine.
Instantly refresh your decor without the need for replace the sofa.
Comfortable for both you and your pets.
Allergen control – a removable and washable cover can help reduce allergens in your living space.
Protect Your Sofa from Pet-related Wear and Tear
Our pet sofa slipcovers serve as the first line of defense against the enthusiastic playfulness of your pets. Whether it's unexpected stains from muddy paws, hair shedding, or claw scratching, our slipcovers have got you covered. They provide a protective layer for your sofa to ensure you limit the wear and tear caused by your animals.
Colors and Styles Available
We have six different sofa cover styles to choose from.
Classic - This style is available in dark grey, light grey, jade white, coffee, lake blue, sea blue, orange, mustard yellow, cypress green, metal grey, and yellow.
Wheat - This style is available in light grey, dark grey, coffee, beige, sky blue, lake blue, pink, orange, and green.
Modern - This style is available in light grey, dark grey, dark blue, lake blue, dark green, pink, orange, beige, and coffee.
Maze - This style is available in dark grey, light grey, metal grey, jade white, coffee, lake blue, green, and orange.
Leaf - This style is available in dark grey, light grey, lake blue, sea blue, orange, mustard yellow, and cypress green.
Materials Used in Our Pet Sofa Covers
The Magic Sofa Covers™ is made of soft stretch jacquard fabric, 85% polyester and 15% spandex material. These sofa seat covers are high stretch, soft, wrinkle resistant, durable and long lasting.
How to Measure Your Sofa for a Cover
You'll want to measure your sofa and cushions before placing an order to be sure our sofa covers fit your sofa. Measure the length, width, and height of the cushions you would like sofa covers for and make sure they fit our sofa cover dimensions:
Seat Cover Size:
Length: 25.6 - 33.5 in
Width: 25.6 - 33.5 in
Height: 2 - 7.9 in
Back Cover Size:
Length: 31.5 - 39.4 in
Width: 19.7 - 25.6 in
Height: 2 - 7.9 in
Chaise Cover Size:
Length: 63 - 74.8 in
Width: 37.4 - 47.2 in
Height: 2 - 7.9 in
Our Pet Sofa Slipcovers Always Stay in Place
No more slipping or tucking corners, thanks to the innovative anti-slip backing. Enjoy a seamless, comfortable seating experience without constant adjustments, perfect for busy households or those who just want effortless comfort.
Exceptional Comfort and Durability for You and Your Pets
Our pet sofa slipcovers are created with the comfort of you and your pets as a priority. The soft and cozy fabric encourages relaxation for everyone in the household. Despite their softness, these couch covers for dogs are highly durable, crafted to withstand the enthusiastic antics of your pets, ensuring they last and look great for years to come.
Can Sofa Covers be Washed in a Washing Machine?
Yes they can! Machine wash separately on low and drip dry for the best results. (tumble dry on "low" is also an option but drip dry is recommended).
How Do I Install a Sofa Cover?
All you need to do is stretch the sectional slipcover over your desired sofa cushions and you're good to go. It's a quick, easy and economical way to protect your sofa that also helps to extend its life.
Are All Our Sofa Slipcovers Pet-Friendly?
Yes, all our sofa slipcovers are designed to be pet-friendly. We understand the challenges pet owners face in maintaining clean and stylish living spaces.
Will Pet Sofa Covers Work for Sectional Sofas?
Absolutely! Our couch covers for dogs are designed to fit a wide variety of sofa styles, including sectional sofas. Our sofa covers ensure a snug and stylish fit for any type of furniture configuration, as long as your sofa fits our cover dimensions. You no longer need to worry about your sectional sofa being left vulnerable to pet-related incidents.
Will Pet Sofa Slipcovers Protect My Sofa from Pet Hair?
Our pet sofa slipcovers are an excellent solution for managing pet hair. When it's time to clean, simply remove the slipcover and shake it out or throw it in the washing machine for a thorough cleanse. This keeps your sofa and home hair-free.
Do Pet Sofa Slipcovers Help with Allergen Control?
Our pet sofa slipcovers can significantly assist with allergen control, but we can't guarantee that they will prevent allergies from acting up. By trapping pet hair and dander, our covers limit these common allergens from spreading in your living space. Regular washing of the slipcovers can effectively reduce the allergen levels in your home, providing a cleaner, more comfortable environment for those with allergies or sensitivities.